Here's some very good news. Positive aging — a discipline that focuses on mature creativity, adult development, lifelong learning, and the opportunities available to older people — is fast becoming a movement, with its own conferences, speakers, books, and experts. Last year, the first Positive Aging Conference was held at Eckerd College in St. Petersburg, FL, and drew over 200 professionals in the field of aging. This year, we got word from author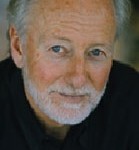 Richard Leider (his Something to Live For: Finding Your Way in the Second Half of Life is just out), one of the conference organizers and speakers, that the second annual Positive Aging Conference will welcome both professionals and members of the public.
You might want to take advantage of ithis important shift if you live in or near Minneapolis where the conference is being held, November 12, at the University of Minnesota's Center for Spirituality and Healing. For those of you not in the area, check with the organizers about simulcasts that will be taking place around the country at various host sites. For information about a simulcast in South Florida, contact me: marika@2young2retire.com and/or watch this space for more information as plans firm up.