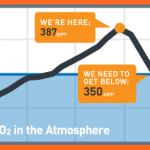 Get back, get back, get back to where you once belonged, sang The Beatles.  Fast forward a few decades and an entirely different world, Get Back could be the mantra for the 350.org, a group of environmental activists including author Bill McGibbon, Van Jones, founder of Green for All and most recently, Obama's point man on the environment, and Dr. James Hansen (the NASA scientist whose testimony before Congress in the 1980s helped bring the issue of global warming to the foreground.)
350 is the number that leading scientists say is the safe upper limit for carbon dioxide—measured in "Parts Per Million" in our atmosphere. 350 PPM—it's the number humanity needs to get back to as soon as possible to avoid runaway climate change.  Click to understand 350 better.
October 24 is the International Day of Climate Action.  This is 4,000 events in 170 countries, the biggest movement on the planet.  We will head down to Delray Beach to join others in Palm Beach Country in the Climate Change Wall of Hope and Shame.   After hearing from members of the Palm Beach County Environmental Coalition; representatives from the Reef Rescue Team; members of the Whitecloud Turtle Rescue Team; and Greenpeace, we will all stand shoulder to shoulder at 3:50pm for 350 seconds.   Will you stand with us?  Click here to find local events.
See what other older adults are doing: