Symptoms are God's way of telling us that we need to pay attention to our bodies.  So when Howard began to experience severe pain and weakness in his lower back, he immediately sought medical help.  He went from one specialist to another, was prescribed painkillers and physical therapy, which helped some, but the problem didn't clear up.  Then our own general practitioner, an MD and homeopathic physician, came up with the correct diagnosis: It's your hips. It made perfect sense: he was 72; he had been athletic most of his life, a tennis player and runner, both of which are notoriously hard on the hip joints.
The next step will be familiar to many of you: Howard turned to the Internet to research hip replacement options.  Some 122 million Americans — 56% of the population — are doing just that, according to a Center for Studying Health System Change report.  And while the so-called 'elderly' 65 and older trail their younger counterparts in using the Internet to seek advice on their health, this remains one of the fastest growing categories of Internet use.  Take Web MD, for example (we do!), which has a handy symptom checker that can either compel you to seek immediate medical advice if your symptoms are not worrisome enough in themselves, or calm you down enough to think clearly.  As a smart person of a certain age, you don't need a professional to recognize that chest pain, shortness of breath and/or dizziness require emergency response.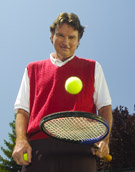 Howard's story has a good outcome.  He remembered having read that tennis star, Jimmy Connors, was back on the courts after having a hip replaced.  So he Googled "Jimmy Connors's hip" and voila! Jimmy's New Hip, a website with all the information he needed about the Wright CONSERVE Total Hip.  Intrigued, he next researched (using the Internet again) who in our area of South Florida was working with this hip replacement system  He discovered that a young surgeon named Vincent Fowble was regularly performing this surgery at Jupiter Medical Center.  Several appointments, consultations and X-Rays later, Howard was scheduled for the first of two hip replacement surgeries that have essentially gotten him back on the tennis court. Without the Internet, this would have taken longer, and cost him time and more pain.
You may have heard that some MDs look askance at self-diagnosing and, if you were to proceed to act on that information alone, you're running a risk of getting it wrong.  Like I tell my yoga students, while yoga offers many health benefits, it is not intended as a substitute for competent medical advice.  Ditto, the Internet.